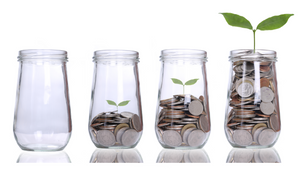 Welcome, Friend!

Check out this collection of fun products to help you break free of debt and give you peace as you eliminate financial worry and frustration.

Each product is developed to help you save time, while helping you save money.

Best of all, you don't have to wait for shipping! You can download them immediately and start using them right away.
Products designed to help you have maximize your money (so you spend less and have more for the fun things in life... like vacations and coach purses).
Hi Friend, I'm Kati!
I'm a stay at home mom of four and lover of all spreadsheets.
In 2009 my husband James got a large pay cut. We were already barely making ends meet, in over $15,000 of debt, and about to miss a mortgage payment.
Refusing for our story to end with a home foreclosure and bankruptcy, and since I was an accountant before I was a mom, I put my years of experience to the test and taught myself how to creatively save money for our family.
We used coupons to pay for our groceries and started analyzing our spending in order to make simple changes so we could pay off all our debt and start actually living. 
Now we regularly take our family to Disney World without using a credit card! 
And shockingly, we've even paid cash for several (new) cars.
The products you'll find here are the step-by-step strategies we used to get out of debt and build savings.
The same strategies that allowed us to stop living paycheck-to-paycheck and instead have the freedom to take relaxing family vacations without worrying about spending money.
Nothing is impossible. With a little determination, and the right steps to save you time, you'll find success sooner than we did.
And trust me, if we can do it, so can you!