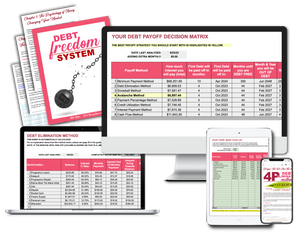 Love it!
I love it and i originally downloaded the excel version but now I need the Google Sheets version but can't find my download link. :(
I'm so happy I found your system!
Let me tell you… before I put those numbers into the debt freedom sheet, I felt hopeless. My husband had calculated that we would be in debt for the next 15 years AND need to pay more than our minimum to make any progress, which is something we simply can't seem to do. I entered it all in and BOOM!!! Five years, seven months! FIVE YEARS and SEVEN MONTHS!!!!!!!! It's INSANE! So, first of all, thank you from the bottom of my heart for helping me to see a way out of this deep deep hole we find ourselves in.
I thank God for this product and for you girl!
After 15 years, I'm ready to work on getting out of debt and work with what I have. I started your plan and will be out of debt in 18 months. I thank God for product and for you girl! I pray all the greatest of blessings overflow in your life. Thank you!
I love your program!
I totally love your budget system! It's fantastic.
Thank you so much for creating these products!!
I am so excited about my new financial "toolbox" additions! I recently purchased your "Cash Flow" and Debt Freedom" products.
I also love that you send out free ebooks to also make life easier for me. I got the email about the meal planning product for free and downloaded it. I saw that there were 10 and thought each was different so I downloaded all ten!